Terpenes are becoming an exciting field as researchers are looking beyond popular cannabinoids (read THC and CBD) to focus on other promising cannabis compounds. Apart from cannabinoids, the cannabis plant also contains terpenes, flavanoids and other nutrients that are little known of. Terpenes are the scented compounds that give plants and insects their unique aromas. For example, limonene is a citrus-scented terpene that is found largely in citrus fruits but is found in other plants as well. Cannabis resin has over 200 different terpenes, but only a handful has been studied. This articles catches up on the latest developments regarding cannabis terpenes and their therapeutic value.
Terpenes and Terpenoids
Terpenes are produced in resinous trichome glands found in female cannabis flowers. They protect the plants against predators.
Terpenes and terpenoids are sometimes used interchangeably, but there's a slight difference between the two. Terpenes are hydrocarbons while terpenoids have undergone oxidation through exposure to sunlight. Hence, terpenoids are found in cannabis plants that have been cured.
Terpenes and the Entourage Effect
In a study conducted by the Hebrew University of Jerusalem in 2015, it was observed that cannabinoids produce a stronger healing effect when combined with terpenes and other cannabis compounds. This is referred to as the entourage effect.
The study was titled "Overcoming the Bell-Shaped Dose-Response of Cannabidiol by Using Cannabis Extract Enriched in Cannabidiol."
Terpenes on their own can offer significant healing effects. However, they produce better effects when they are consumed together with other cannabis compounds. This discovery has sparked off the wave of full-spectrum cannabis products that contain a mix of compounds.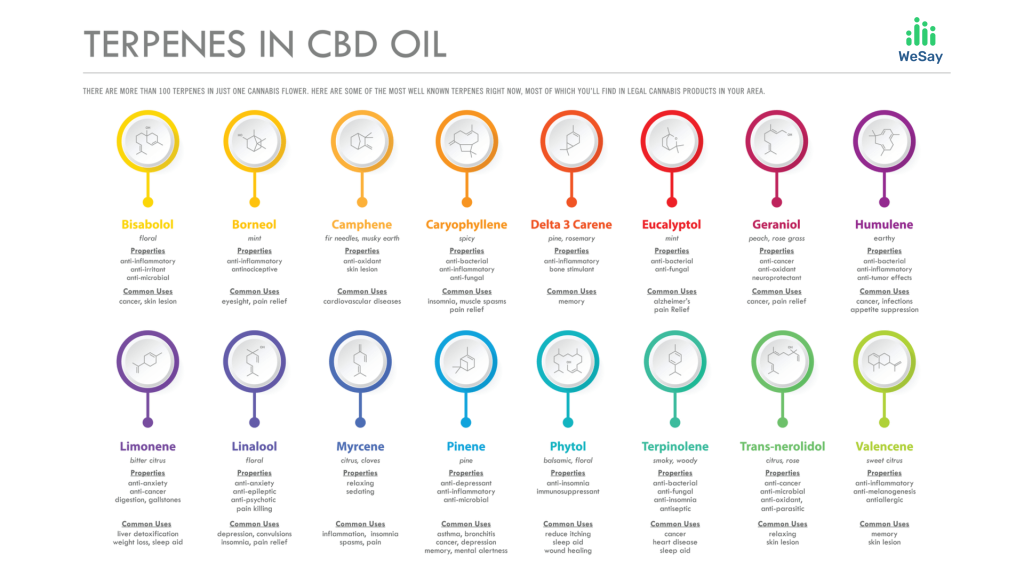 Here is a review of 12 common terpenes found in cannabis
1. Myrcene
Myrcene is the terpene that gives cannabis the strong earthy scent, others have described this as musky or skunk-like. It is also the most abundant terpene especially in Sativa strains.
A study conducted in 2011 showed that myrcene anti-inflammatory and sedative effects. In a study conducted in 2015, myrcene was shown to have anti-catabolic effects. This is helpful for patients with arthritis who are at risk for the progressive breakdown of bone cartilage.
2. Pinene
Pinene is the terpene that is commonly found in pine and fir trees, it is also found in cannabis. Pinene smells of pine trees and is among the common terpenes in many plants.
Research has shown that pinene can help in the treatment of asthma. This is due to the relaxing and expanding effects it has on the airways.
A later study conducted by Guangdong University in China also showed that pinene can prevent the growth and spread of cancer cells.
3. Limonene
Limonene enhances the absorption of other terpenes, so when it's present the effects of other terpenes are magnified. It smells of citrus and is found in high amounts in lemon peels.
A study conducted by the University of Arizona in 2015 showed that limonene has anti-proliferative effects against cancer cells.
4. Linalool
Linalool is a sweet-smelling terpene that is abundant in lavender flowers. Linalool has anti-anxiety and sedative effects. It can also reduce lung inflammation as this 2015 study revealed.
5. Caryophyllene
Caryophyllene has been approved by the FDA as a food additive, natural flavoring, and taste enhancer. A study conducted on mice in 2014 showed that caryophyllene has pain-relieving properties. Another study conducted in the same year showed that this terpene can reduce alcohol withdrawal symptoms.
6. Eucalyptol
Eucalyptol is common in Sativa strains of cannabis. It reduces pain and inflammation when applied topically. It also controls secretion of asthma and may help in the treatment of asthma. A 2016 study showed that eucalyptol has a role to play in chronic diseases.
7. Humulene
Humulene is abundant in hops, which is used in beer fermentation. A 2009 study showed that humulene has a role to play in reducing airways allergic inflammation. Humulene may also have anti-cancer effects.
Humulene is also abundant in coriander.
8. Ocimene
Ocimene is a terpene that is common in spices such as mint, tarragon, marjoram and parsley. The scent is a mix of herbal and spicy. Studies on this strain are few. However it is speculated that ocimene is an essential oil that has antiviral effects.
9. Borneol
Borneol is found in small amounts in cannabis, it is also found in camphor and mint. It has been used in ancient Chinese medicine to facilitate the uptake of other drugs. A 2017 study also showed that this terpene improves the permeability of the blood-brain barrier allowing other drugs to go through.
10. Terpineol
Terpineol is found in many essential oils where it confers mood uplifting effects. A mice study conducted in 2017 showed that terpineol has gastro protective effects. It can be used to relieve the symptoms of gastric ulcers.
11. Terpinolene
Terpinolene is another terpene that is common in essential oils. A 2013 study conducted on mice showed that it has anti oxidant and anti-cancer effects.
12. Camphene
Camphene has the smell of damp woodlands. It has positive heart health effects. A 2011 study showed that is lowers bad cholesterol and triglyceride levels. A 2016 study demonstrated how camphene exerts is cardio protective effects.
Conclusion
The legalization of cannabis will continue to open doors for cannabis research. Given all the hope precipitated by anecdotal and preliminary evidence, it is indeed exciting to see what will unravel in this space in the near future.