Delta-9-tetrahydrocannabinol (THC) and cannabidiol (CBD) are by far the most popular cannabinoids found in cannabis plants. A lot of research has been conducted on these two promising cannabinoids, and now it is apparent that they have lots to offer as therapeutic agents. Due to this reason, many often wonder what sets one apart from the other, or are they one and the same thing? Not exactly, this article will draw comparisons between THC and CBD.

Differences Between THC and CBD
1. Chemical structure
The chemical structures of THC and CBD are almost identical apart from the arrangement of 1 atom. They each contain 21 carbon atoms, 30 hydrogen atoms, and 2 oxygen atoms. But due to the arrangement of this atom, the two compounds interact differently with the body and produce different results.
Because of this minor difference in structure, CBD and THC interact differently with the endocannabinoid receptors which are spread throughout the body.
THC's chemical structure allows it to bind directly to the endocannabinoid receptors in the brain- CB1 receptors. The CB1 receptor is also bound by anandamide which is the body's bliss molecule. CBD on the other hand cannot bind to the CB1 receptors because it has a different chemical structure. However, it interacts indirectly with the CB2 receptors.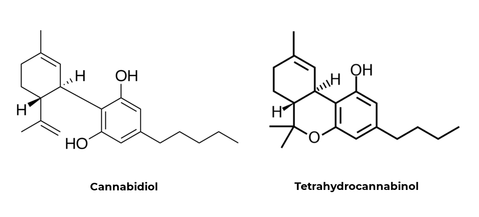 2. Psychoactive components
After consuming a weed strain that is high in THC you are likely to "get high." This "high" is due to the psychoactive effects of THC, and not CBD.
CB1 receptors that THC predominantly binds to are located in the brain and central nervous system. When THC binds to these receptors it sets off a psychoactive process that causes extreme happiness and euphoria. Depending on the concentration of THC in that strain, the euphoria may quickly translate to mild psychedelic effects.The chemical structure of CBD does not allow it to bind to CB1 receptors. Due to this one reason, CBD cannot trigger psychoactive effects even when present in high amounts. In fact, recent research has shown that CBD can displace THC from CB1 receptors and hence dilute the psychoactive effects of THC. A 2019 study has also shown that CBD can offset the psychiatric effects caused by THC.
3. Side effects
CBD is generally well-tolerated, even in large doses. When side effects occur they are usually mild and may include diarrhea, tiredness, lightheadedness, and low blood pressure. However, THC is not well tolerated in high doses. THC can cause the following side effects:
Dry mouth
Red eyes
Increased heart rate
Short term memory loss
Paranoia
Anxiety
Delayed reaction times
Poor concentration especially in teens
These side effects are attributable to the psychoactive properties caused by THC. Fortunately, CBD is able to mitigate these negative effects. A 2013 study showed that CBD can protect against adverse psychological effects of THC.
4. Legal status
Cannabis is illegal throughout the US, at least when we consider federal law. However, 33 states have legalized medicinal cannabis while 11 states have decriminalized recreational weed as well. Recreational weed is likely to have high amounts of the compound that causes the "typical weed high,"- THC.
In 2018, the US Farm Bill reclassified hemp and made it legal to farm and use hemp throughout the US. As you will see later, hemp contains high amounts of CBD and trace amounts of THC which should not exceed 0.3%.
In the same year, the federal drug administration (FDA) approved a CBD based drug for the treatment of intractable childhood seizure– Epidiolex. So far this is the only cannabis based that has been approved by the FDA.
In a nutshell, CBD has been legalized in many parts of the US. However, THC is considered the "bad sister" and remains prohibited in many parts of the world at large.
Similarities between THC and CBD
1. Both are derived from hemp and marijuana
Cannabis sativa L. has different sub species which include both hemp and cannabis. Hemp has trace amounts of THC and more CBD. For hemp to be considered legal in the US it has to contain less than 0.3% THC. Cannabis, on the other hand, will have high THC amounts approximately 10% and more. Cannabis may have varying amounts of CBD; from 0.1%- 25%. ACDC, for example, is cannabis strain that may have CBD amounts as high as 24%.
2. Medicinal benefits
The endocannabinoid system is responsible for maintaining homeostasis in the body. It controls many functions including pain sensation, hunger, appetite, reproduction, immune function, emotions, and memory. Both CBD and THC interact with the endocannabinoid system and hence they are able to produce different therapeutic effects. A 2018 study conducted by the University of Colombia demonstrated the signaling and function of the ECS in the central nervous system.
A number of studies have been conducted to investigate the medicinal benefits of cannabinoids. There are striking similarities between the therapeutics benefits of THC and CBD. However, a few differences exist as you will see below.
CBD can be used to treat the following among others:
THC can be used to treat the following among others:
Pain
Inflammation
Lack of appetite
Nausea
Insomnia
Anxiety
Migraines
Glaucoma
Depression
As you may have noted, the two compounds can be used in the treatment of similar conditions because of their interactions with the ECS. However, one is not interchangeable for the other.
3. Consumption methods
Both THC and CBD are sold in similar formulations that include oils, gels, capsules, tinctures, concentrates, lotions, sprays, edibles such as brownies, and smokable products.
THC versus CBD, Is One Superior To The Other?
It may look like CBD has obvious advantages over THC. However, this is absolutely not the case. Even for medicinal use, CBD may not be able to achieve what THC can do for some medical patients. For example, THC is responsible for the munchies that are associated with cannabis. This hunger stimulating effect can be used to stimulate appetite in patients with HIV/AIDS, and cancer. An article posted in Science Daily in 2018 showed that THC could be used to treat appetite loss in chronic illnesses.
THC is also able to cause euphoria while CBD is not. This means that CBD can never be used for recreational purposes.
CBD has one main advantage; it does not cause psychoactive effects. This makes it very useful for children and those who may wish to avoid this effect. Also it has a low potential for abuse.
Ultimately, one should consider all the factors mentioned above and make an informed decision on which compound best serves their needs at a particular time. It is also important to consult with your health care provider before starting any cannabinoid based treatment.