How much CBD one should take? Given that there are no FDA recommended dosages, a good number of people resort to guesswork when it comes to finding the ideal CBD dosage. This article explains how to find the proper CBD dosage based on a number of factors.
Is there a correct Dosage For CBD?
The right dosage for a person will depend on several factors. This means that you cannot adopt someone else's CBD dosage as ideal for you, even if you are suffering from the same condition. You need to take into account all the factors listed below when determining the ideal CBD dosage that will work for you.
Factors CBD That Affect CBD Dosage
1. Body Weight
The more body weight a person has, the more CBD they will need to achieve the desired effects. This is similar to other medications whose dosages are calculated based on body weight. A rough estimate for CBD would be to start with 1mg-6mg of CBD for every 10 pounds of body weight. The table below illustrates this further.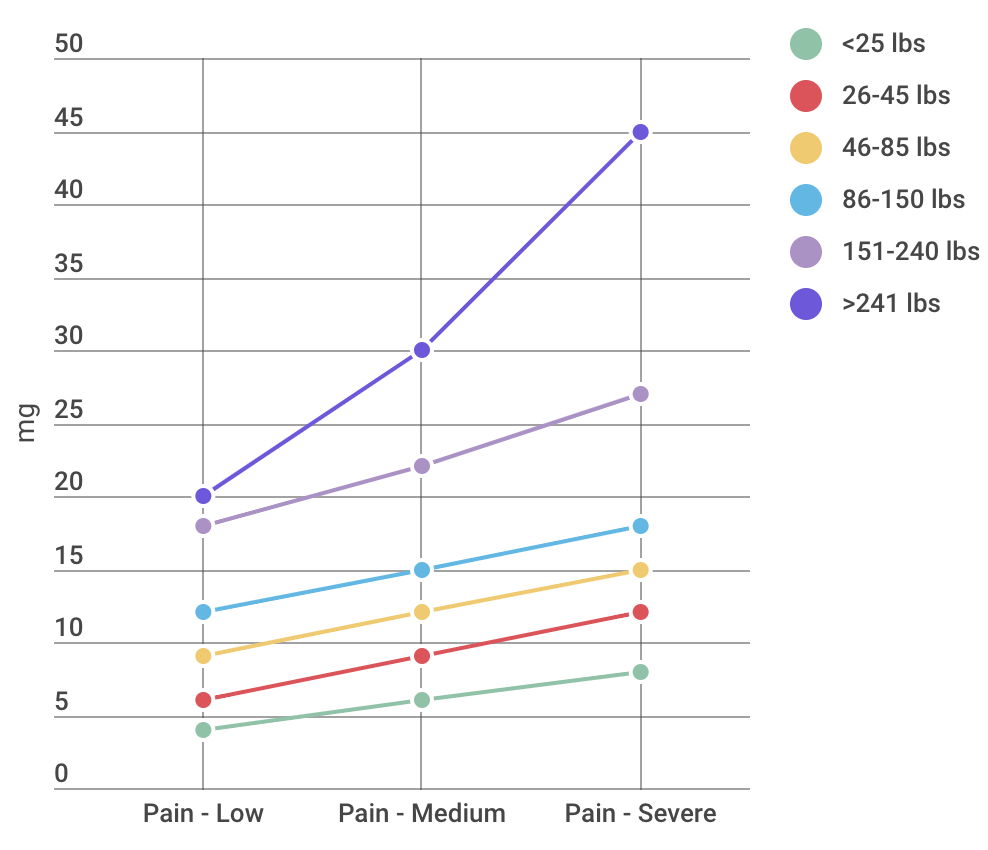 2. Age and Metabolism
People with slower metabolism will metabolize CBD at a slower rate and hence they may need smaller doses of CBD. People with sedentary lifestyles may also have slower metabolism rates. To accommodate such differences, you will need to chart your experience after starting on CBD so you can adjust your dosage accordingly. We shall discuss charting later in this article.

3. The severity of the Condition Being Treated
People turn to CBD to treat conditions such as pain, anxiety, and seizures. The more severe the condition is, the higher the dose of CBD that will be required. Here is a chart that gives an estimate of recommended CBD dosage for different weights and levels of pain.
4. Tolerance
Tolerance to a drug occurs when a person needs more of the same drug to achieve the same effects. If 20mg of CBD was able to relieve your pain, you may find that over time you need 30mg to achieve the same effect. This is tolerance. People develop tolerance at different rates. To be able to accommodate for tolerance, you need to chart your experiences after taking CBD over time.
Charting
Because our bodies are all very different, it is advisable to chart how your body responds to different CBD dosages. Record on a sheet of paper the amount of CBD that you are taking and the effects that this has on your level of pain or any other condition. This will help you find the dosage that relieves your symptoms. It will also alert you when you are developing tolerance or when there is an increase in the severity of your condition.
"Start slow and go-slow"
As a rule of thumb, you should always start with the lowest recommended dosage and increase upwards as your body adjusts to the effects of CBD. If the lowest dosage is able to relieve your symptoms, stick to it until you observe a change. Also remember to chart when you increase your CBD dosage.

How Do You Calculate CBD Dosage
CBD Capsules
CBD capsules will always come with an exact amount of CBD in each capsule. This may be anything from 5mg, 10mg, 20mg or 25mg most times. Capsules make it easy to get the correct amount of CBD. Say one weighs 80 pounds and requires 20mg of CBD daily. They can either take 10mg capsules twice daily or 5mg capsules, four times a day.
CBD Tinctures
CBD tinctures are a bit harder to work with because they come in different bottle sizes and different strengths. The usual serving size for tinctures in 1 ml. Say a 20ml bottle has 100mg of CBD. This means that every 1 ml has 5mg of CBD (total CBD/ bottle size in MLS).
Tinctures are best placed under the tongue and held there for about 30-60 seconds before swallowing. This region is well vascularised and will ensure that the CBD hits your bloodstream sooner.
Inhaling CBD through vapes is a quick way to get CBD into your system.
When CBD is ingested orally, it has to undergo hepatic metabolism in the liver meaning that you will begin feeling the effects after about 30 minutes. Before you conclude that a particular CBD dosage has not worked for you, wait for at least 60 minutes for the full effects to set in.
Never adopt the dosage used by someone else, even when they claim to be experts. Remember that their weight, condition and tolerance level may be different from yours. Instead, start with the recommended dosage for your weight and adjust accordingly as you observe the effects.
Is There A Fatal Dose For CBD?
Many people have wondered if it is possible to overdose on CBD. Fortunately, this cannot happen.
If you take too much CBD, you may experience some adverse effects which include: headaches, drowsiness, lightheadedness, decreased blood pressure, and dry mouth. Also, CBD affects the metabolism of certain drugs. Taking CBD in combination with such drugs may also cause some adverse effects. Because of this, it is always advisable to consult with your physician before starting on CBD treatment.