Preserving your cannabis is essential for maintaining the flavor, smoothness, and THC content. Fresh green buds can become dusty brown shake pretty quickly without proper storage. Here are tips for how to store weed so that you can extend its shelf life as long as possible!
How Long Is Cannabis Good For?
The Journal of Pharmacy and Pharmacology tried storing nine cannabis herbs using various methods. They found that when stored properly, phytocannabinoids can last up to two years!
While the phytocannabinoids will still be intact, you might not want to light up two-year-old weed quite yet. Cannabis still loses moisture with time. You might still get high from aged marijuana, but it doesn't mean it will be a tasty experience!
There are a few precautions you should take to ensure the potency and flavor of your weed. Let's discuss some ways to store weed for maximum shelf life!
How to Store Weed Properly
Are you guilty of throwing your weed in a plastic bag and letting it sit wherever you decide to throw it? You're wasting phytocannabinoids, flavor, and money! Here are some tips to extend the expiration date of your cannabis.
Ditch the Plastic Bag
First, stop storing your weed in plastic. Plastic is porous. It drains moisture from your weed.
Also, that moisture will sit within the plastic. The longer it stays in the pores, the water can grow bacteria and mold. These contaminants can get on your weed, and you end up smoking them!
In the event that you do use plastic (and buy your marijuana in bulk), consider investing in a vacuum sealer. Vacuum sealing large volumes of cannabis will ensure that oxygen doesn't degrade any terpenes or phytocannabinoids.
While useful for preserving flavor, vacuum sealing isn't fool-proof. You are tightly adhering plastic around moist marijuana flowers. Vacuum sealed plastic will inevitably draw some moisture from your cannabis and promote an environment that can be conducive to bacterial growths.
If you are going to keep your marijuana in a vacuum-sealed container for a long time, consider freezing it. Pathogens won't be able to grow in freezing temperatures.
When you do freeze weed, be careful handling it as it thaws. You might mistake trichomes for ice crystals.
Trichomes are tiny hairs that are teeming with phytocannabinoids. Don't waste THC on what you believe to be ice.
Get an Airtight Container
Getting rid of plastic bags is a great first step. Now, you need somewhere to place your bud. It's time to invest in an airtight container.
If possible, make sure that this container isn't plastic. Hard plastic might be a slight upgrade from a plastic bag, but it's still a porous material.
Plus, plastic molecules are synthetic. These human-made compounds can have reactions with phytocannabinoids, potentially altering their overall potency.
One of the best materials for storing weed is glass. Airtight glass jars don't rip like plastic bags. There is no chance that oxygen will enter the container and cause phytocannabinoids to oxidize.
Plus, glass won't retain water like plastic. It can prolong moisture deterioration and prevent the growth of potential pollutants.
Lastly, glass particles won't chemically react with marijuana compounds. An airtight glass jar won't alter the flavor of your weed or dilute its overall potency.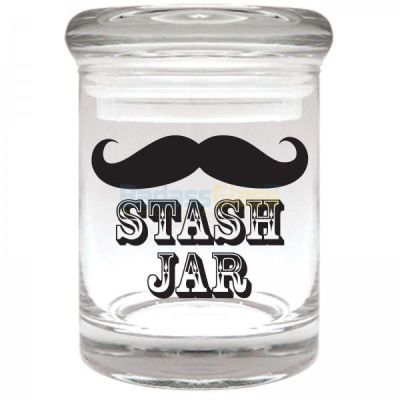 Pack It with Humidity Packs
An excellent way to maintain the color, shape, and flavor of your marijuana is with humidity packs. These work much like gel humidor beans used for cigars.
Humidity packs are engineered to maintain the relative humidity of marijuana buds. This feat is accomplished by a unique blend of salts and water.
These ionized molecules help find the right balance between high moisture that causes pathogenic growth and low moisture that dries out terpenes.
Store Away from Light
The Journal of Pharmacy and Pharmacology noted that direct contact with light was the primary reason for the degradation of phytocannabinoids. So, make sure that you store your glass jar in a dark area.
Your cannabis should only see daylight when you're ready to use it. Store your cannabis in a place where you can grab whatever you need without exposing marijuana to the elements for too long.
There are some people who will need their weed out and available at all times. You can purchase an airtight container that blocks ultraviolet rays. Just make sure your house doesn't run too hot!
Keep It in Cooler Temperatures
In addition to sunlight, try keeping your cannabis away from direct heat. Heat can cause chemicals in plant matter to become excited.
Even in a UV-protected container, temperature can rise. You're essentially cooking your phytocannabinoids, with no edibles to show for it!
Heat is also a form of pressure. As we all learned in science class, pressure can alter the chemical composition of particles. Ultimately, they become something else.
For instance, heating cannabis can convert THCa into THC. Doing this before you are ready to smoke can eventually lessen the effects you feel upon smoking.
Tips for Storing Weed
How you store marijuana will greatly influence its effects and flavor. Take proper care of your weed if you want a better high and a smoother smoking experience.
Get rid of storing weed in plastic bags. If you have a large quantity of marijuana and need to use plastic, try vacuuming sealing instead. Consider storing these larger quantities in the freezer, as long as you handle the thawed buds with care.
Pack the marijuana in an airtight glass container and keep it away from light and heat. Be sure to throw in a humidity pack to regulate the moisture. All of these steps will ensure your weed stays as fresh as possible!
Disclaimer:
Opinions expressed in this article are those of the guest author and not necessarily WeSay.